Djokovic and Alcaraz have played just four times, all since 2022, with each player winning two
If Carlos Alcaraz vs. Novak Djokovic chapter five happens at the US Open, it will be in the final, with the last major of 2023 on the line.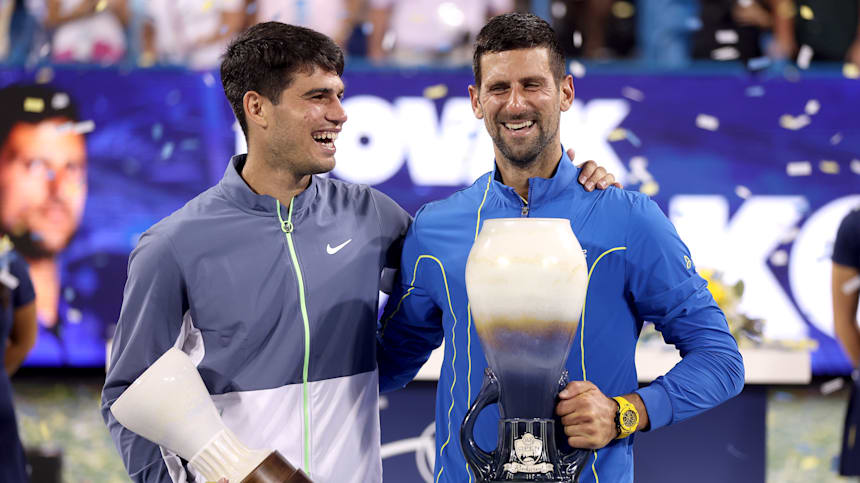 But no matter who emerges with Grand Slam glory, their newfound rivalry has been an unexpected development in men's tennis.
And has added an inter-generational dynamic to the sport as the "Big Three" era – Djokovic, Roger Federer and Rafael Nadal – has waned.
"The feeling that I have on the court reminds me a little bit when I was facing Nadal when we were at our prime of our careers," Djokovic said of Alcaraz recently.
"Each point is a hustle. Each point is a battle," he added. "You feel like you're not going to get five free points in the entire match. You've got to basically earn every single point, every single shot, regardless of the conditions."
The meteoric rise of the 20-year-old Alcaraz also has the next generation of men's stars asking: 'Hey, can we do that, too?'
The duo's battle at Wimbledon last month revealed a champion's mentality from Alcaraz that he hadn't shown before: After dropping the first set 6-1, he roared back for the title in a five-set classic.
"Before this match, I thought that I wasn't ready to beat Djokovic in five sets, an epic match like this," Alcaraz admitted. "[To] stay good physically and mentally [for] five hours against a legend, I learned that about myself today."
The triumph marked a second major for Alcaraz, who is looking to successfully defend his title this fortnight in New York. Earlier this month, the two produced another instant classic, this time with Djokovic saving a championship point in the Cincinnati final.
It moved their head-to-head to 2-2 in four meetings, but also solidified a new rivalry that Alcaraz understands is motivating his peers, even if his focus remains squarely – and understandably – on himself.
"I did it for myself, not for [the next] tennis generation, honestly," he said after Wimbledon. "Beating Novak at his best, in this stage, making history… [it's] amazing for me."
He continued: "It's great for the new generation, as well, I think to see me beating him and making them think that they are capable to do it, as well."
It was after the Wimbledon final that Djokovic said that while Alcaraz will often get compared to Nadal (as well as Djokovic himself and Federer, too), he is unlike any player Novak has ever come up against.
"I haven't played a player like him ever, to be honest," Djokovic said. "Roger and Rafa have their own obviously strengths and weaknesses. Carlos is very complete player. Amazing adapting capabilities that I think are a key for longevity and for successful career on all surfaces."
The Alcaraz breakthrough comes at a time as Federer has stepped away from the game and Nadal is out for the remainder of this year, while a generation headed by Daniil Medvedev, Stefanos Tsitsipas, Alexander Zverev and others have won a combined one Slam. (Medvedev, 2021 US Open.)
Alcaraz has two, and looks primed for many more.
But Djokovic is on his own quest: He's currently tied with Serena Williams for the Open Era record of majors won at 23. He'd like to equal the all-time record of 24. As soon as he can.
"Grand Slams are the biggest goals that I have in my career at the moment," Djokovic said of the four majors, the biggest events in tennis. "I don't know how many more Slams I'll have. I don't have an end in my mind at the moment. I also understand that things are different when you're 36, so I have to be more appreciative, a bit more present, treating every Grand Slam as maybe your last one in terms of commitment and performance."
He added: "I see this every Grand Slam that I play right now as really a golden opportunity to make more history."