JOHANNESBURG – The Pretoria High Court heard that the multi-million rand coronation for AmaZulu King Misuzulu kaZwelithini was unlawful. King Misuzulu was recognised by government with a massive fanfare in 2022, after he was announced as the heir to the highly contested throne in the Zulu kingdom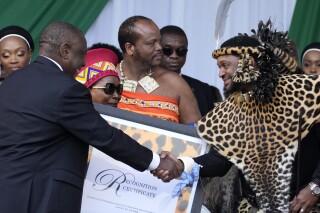 But a faction in the royal family believes the move by government was premature and wants the decision set aside.
The latest court case is part of a series of challenges by Prince Simakade, who believes he should be at the helm of the monarchy.
It was an unusual start to court proceedings as President Cyril Ramaphosa now finds himself at the centre of a succession battle between two factions of the Zulu royal family.
Prince Simakade took Ramaphosa to court as he tries to bolster his bid to dethrone King Misuzulu kaZwelithini.
He believes Ramaphosa's decision to recognise his half-brother as the successor to the late King Zwelithini was taken in haste.
Prince Simakade said the king's coronation should have come only after the contest for the throne was resolved either internally or by the courts.
The adjudication of the succession battle by the court is extraordinary and is expected to set a precedent for customary law.
Judge Norman Davis will continue to hear submissions until Wednesday.
He is the oldest son of King Zwelithini and Queen Mantfombi of the royal house of eSwatini. The late king had six wives and several sons. After the king died last year, Misuzulu's mother served as the regent for just a month before she died, but in her will she named her son to be the next king.
Addressing the court on Tuesday, Ramaphosa's lawyer, Marumo Moerane, argued that the president's issuance of the certificate recognizing Misuzulu as the heir to the throne followed consultations with the Zulu royal family, which confirmed him as the king.
Ramaphosa also relied on previous court judgments which dismissed earlier legal challenges disputing Misuzulu's ascension to the throne, he said.
The Zulu royal house is estimated to control about 30% of the land in KwaZulu Natal province through the Ingonyama Trust.
It also receives an annual budget of more than $4 million from the provincial government for the upkeep of the royal households and cultural activities.
According to the latest national census, isiZulu is the most spoken language in South Africa with 24.4% of households speaking it.