Johannesburg, South AfricaSouth Africa has always been the most prosperous country in Africa Johannesburg is traditionally considered the wealthiest city on the continent. Most of its wealth is attributed to diamond mining. Diamonds were not always so pricey
The latest Africa Wealth Report for 2022 was recently published by New World Wealth and it reveals that much of the wealth still resides in the cities, particularly Johannesburg and Cape Town.
The five South African cities in the top 10 of Africa's most wealthy cities are Johannesburg, Cape Town, Durban, Umhlanga, and Pretoria.
New World Wealth in partnership with Henley & Partners reported that despite a tough decade to date, "South Africa is still home to more than twice as many millionaires as any other African country."
Furthermore, South Africa continues to attract high net worth individuals (HNWI) due to its weather, environment, and well-established residential areas such as Camps Bay. A large stock exchange, free media, and a well-developed banking system and wealth management sector further add to the appeal for investors.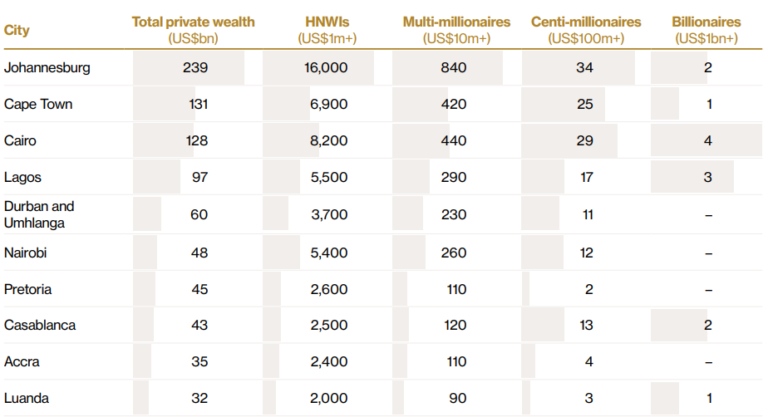 Rankings are determined by the total wealth held by all individuals living in each city and NHWI in terms of the report refers to dollar millionaires.
Johannesburg is South Africa richest city, with most of the wealth concentrated in the suburbs of Sandhurst, Hyde Park, and West Cliff. In Cape Town, Clifton, Bantry Bay, Fresnaye, and Camps Bay are the richest suburbs in the city.