Amazon product lines include (books, DVDs, music CDs, videotapes, and software), apparel, baby products, consumer electronics, beauty products, gourmet food, groceries, health and personal-care items, industrial and scientific supplies, kitchen items, jewelry and watches, lawn and garden items, musical instruments,
There are more than 25,000 product categories sold on Amazon, and picking one that makes you money can be tough.
You don't want to waste your time and resources on something that won't sell, right?
That's why you need to do your homework and find out what categories are hot-selling right now.
In this guide, we'll show you everything you need to know about the best-selling categories on Amazon.
Whether you're a newbie looking to launch your first product or an experienced seller wanting to grow your product line, this guide will help you find the best category for your Amazon business.
A quick peek into the article:
Best-Selling Product Categories on Amazon
Most Growing Product Categories on Amazon in 2023
Best-Selling Product Categories During Holiday Seasons
How Do You Choose the Right Product Category to Sell on Amazon?
How to Find Lower Competition Products in a Popular Category?
Final Thoughts
Best-Selling Product Categories on Amazon
It is no secret that selling on Amazon has become increasingly competitive in recent years.
So, you need to know the best-selling categories to decide on the products to sell on Amazon.
Here are the top 10 best-selling product categories on Amazon:
As you can see, these are the few product categories you can choose from to sell on Amazon in 2023.
However,  consider other factors like competition, demand, profit margin, and customer reviews when deciding what to sell. You should also do your own research and analysis
to find out the best products within each category that suit your niche, brand, and target audience.
Most Growing Product Categories on Amazon in 2023
Aside from best-selling categories, it is also essential to know which categories are gaining traction in the marketplace in order to uncover hidden trends and opportunities.
Given below are the few categories that have seen the maximum growth in 2022: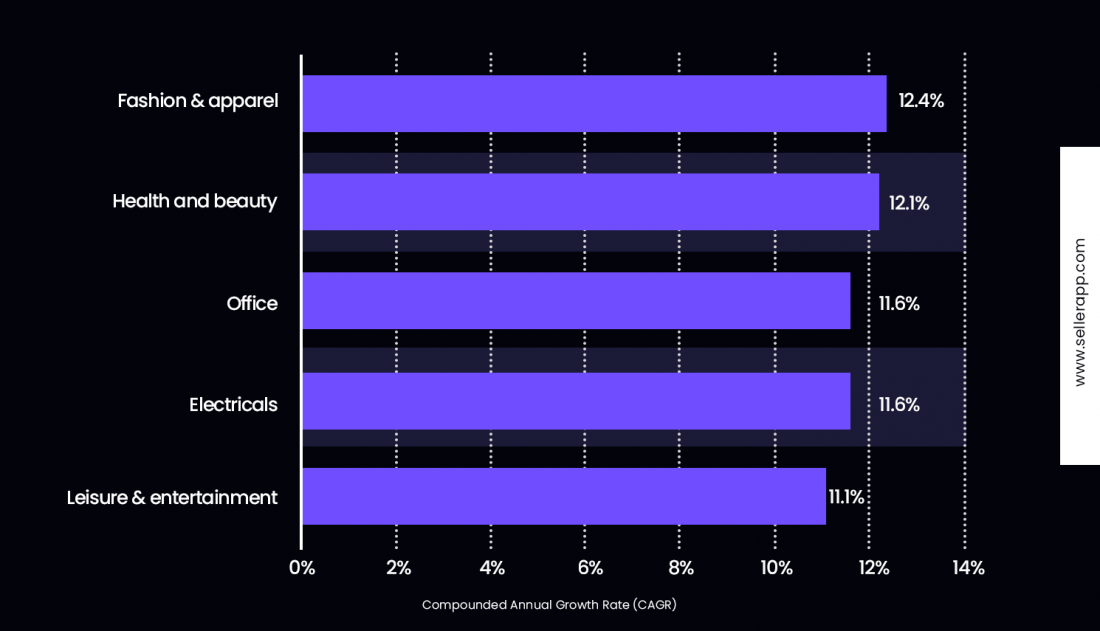 According to Statista, fashion and apparel will be the fastest-growing product category between 2022 and 2027, with sales expected to grow at a compound annual rate of 12.4%.
Health and beauty will be close behind, increasing at a CAGR of 12.1%, followed by office products and electricals with 11.6%, and leisure and entertainment with 11.1%.
Best-Selling Product Categories During Holiday Seasons
Now you might be wondering, all this is well and good, but what are the best-selling categories during the holiday season?
Knowing these trends can help you optimize your inventory, pricing, and marketing strategies to boost your sales in the sales days.
Here are some of the best-selling product categories during the holiday season in 2023:
Toys & Games
This category sees a huge increase in sales during the holiday season.
There is always a good, ever-growing demand for this category because of the entertainment value. There are also different sub-categories within the niche to explore.
Some of the top-selling items in this category are:
LEGO sets,
Nintendo Switch,
Board games, etc.
Electronics
This category is always popular during sale days, as customers look for good bargains on gadgets and devices.
Some of the top-selling items in this category in 2023 are:
Fire TV Stick 4K,
Echo Dot (4th Gen),
Kindle Paperwhite,
Samsung Galaxy S21/23,
Apple AirPods Pro,
Bose headphones.
Pet Supplies
This category has been growing at a steady rate over the years owing to how diverse it is.
It offers everything pet owners could possibly need, including everything for dogs, cats, birds, fish, and other aquatic animals, as well as horses and reptiles.
Some of the top-selling items in this category are:
Furbo Dog Camera,
Embark Dog DNA Test Kit,
PetSafe ScoopFree Self-Cleaning Litter Box,
Frisco Igloo Covered Cat & Dog Bed,
Greenies Dental Dog Treats.
Sports & Outdoor
After the pandemic, fitness and outdoor activity products also saw a surge in sales.
This category typically includes products associated with sports, both indoor and outdoor, fitness, and all the related equipment. For sellers who are looking to target this category, being creative and focusing on keywords is vital.
Some of the top-selling products in this category are:
Peloton Bike+ Exercise Bike,
Fitbit Versa 3 Fitness Watch,
Garmin Forerunner 245 GPS Running Watch,
Coleman Sundome Tent
Callaway Golf Set.
Books
This category also remained a favorite for Amazon shoppers during the holiday.
It is a good niche to explore because it's easy to sell books compared to other goods. There is also a variety of genres to explore.
Some of the top-selling products in this category are:
Atomic Habits by James Clear
Lessons in Chemistry: A Novel by Bonnie Garmus
It Starts with Us: A Novel (It Ends with Us) by Colleen Hoover
Iron Flame (The Empyrean) by Rebecca Yarros
The 48 Laws of Power by Robert Greene
Home & Kitchen
This category also saw a high demand during the holiday season.
Some popular products in this category are bedding, furniture, cleaning supplies, heating, cooling, air purifiers, etc.
There are also home decor and seasonal decor products along with storage and organization units, which rank high on the BSR list.
Some of the top-selling items in this category are:
Instant Pot Duo Plus,
Nespresso Vertuo Next Coffee Machine,
Dyson V11 Vacuum Cleaner,
Philips Hue Smart Lighting Kit,
Le Creuset Cookware.
How Do You Choose the Right Product Category to Sell on Amazon?
Finding the right product category to sell on is not as difficult as it sounds. Here's how to do it:
First, install the SellerApp Chrome Extension from the link.
Then go to Amazon, open the extension, and search for a product or category you want to analyze.
Once the result is loaded, click on the SellerApp Chrome extension icon → Product Scanner.
Now, explore different metrics to understand the opportunities in the category. Such as:

Estimated Daily Order
Estimated Daily Revenue
Opportunity Score
Listing Quality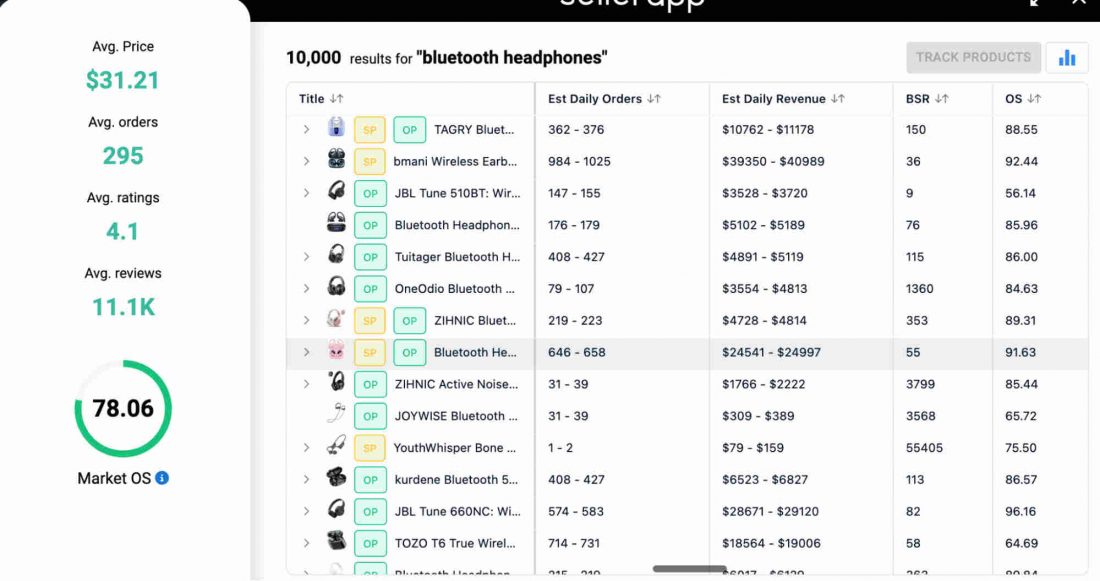 Note: Also see the Market OS score. This shows if it's feasible to sell in this category profitably. The higher the Market OS score, the easier it is to sell in the category.
You can also open the top product listings in the category and analyze historical pricing, ranking, and sales trends in the Product Intelligence tab.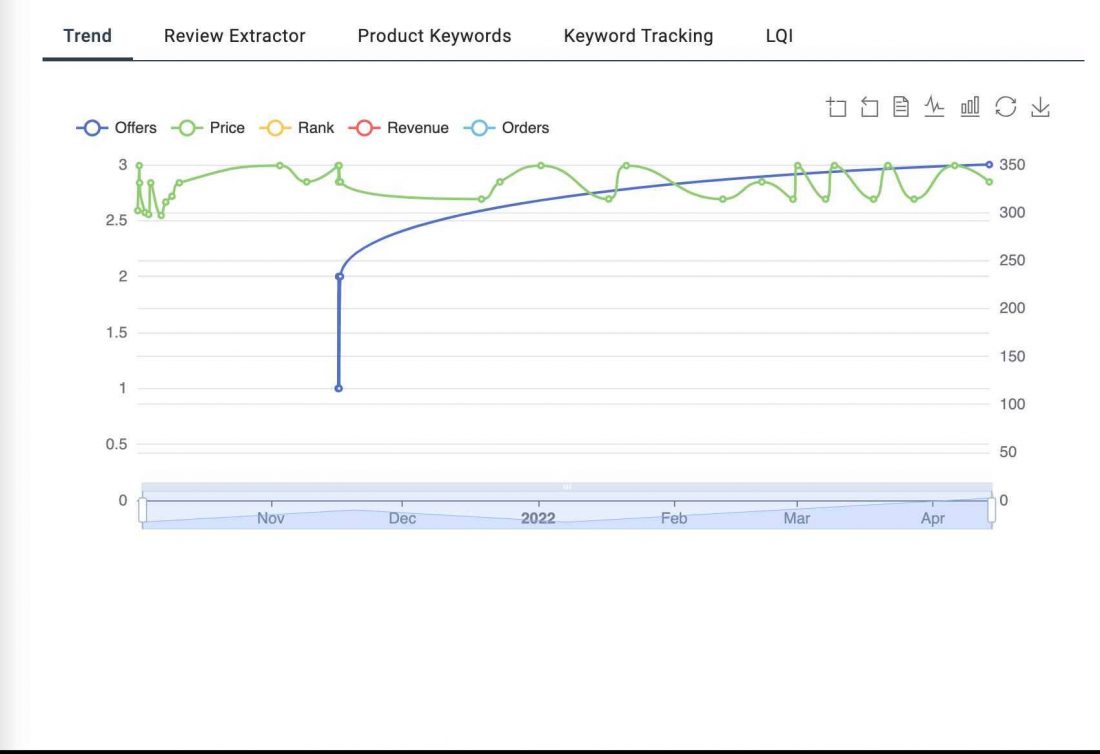 You want to make sure the sales trends have an upward trajectory without seasonal dips.
Additionally, you can calculate the profit margin for the products in the category with the "Profit Calculator" tool. Just input your COGS, fulfillment cost, and other costs, and the tool will show you how much you can make from selling the product.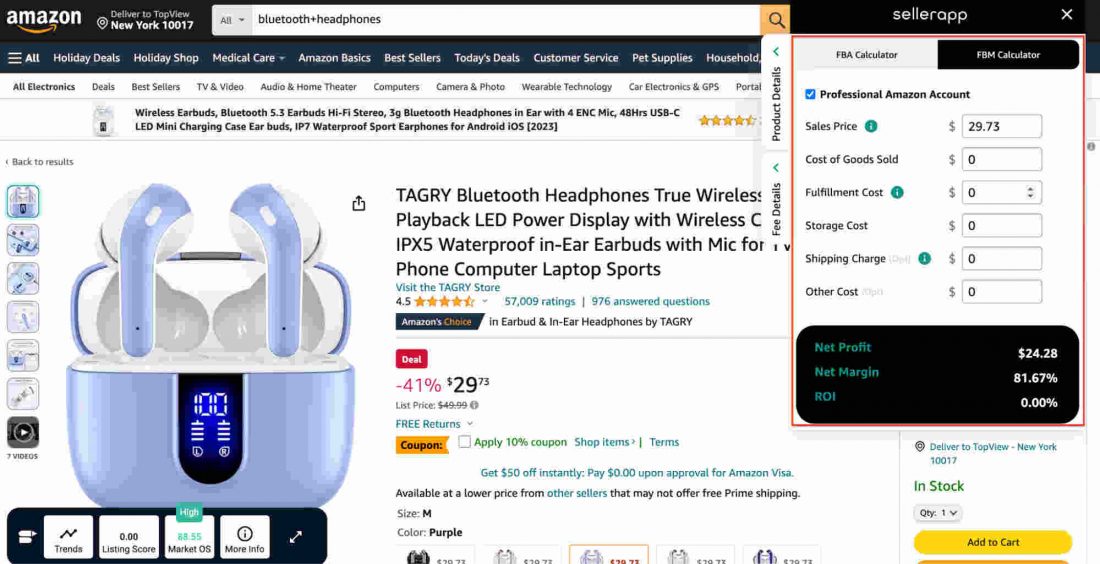 All of these will help you pinpoint a profitable product category to sell on.
How to Find Low-Competition Products in a Popular Category
A good strategy to discover products with high demand and low competition is to go deeper into a category and look for more niche subcategories.
The more narrow and focused you are, the more likely you are to find a market that is not saturated with competitors.
For instance,  Electronics > Portable Audio & Video > Boomboxes.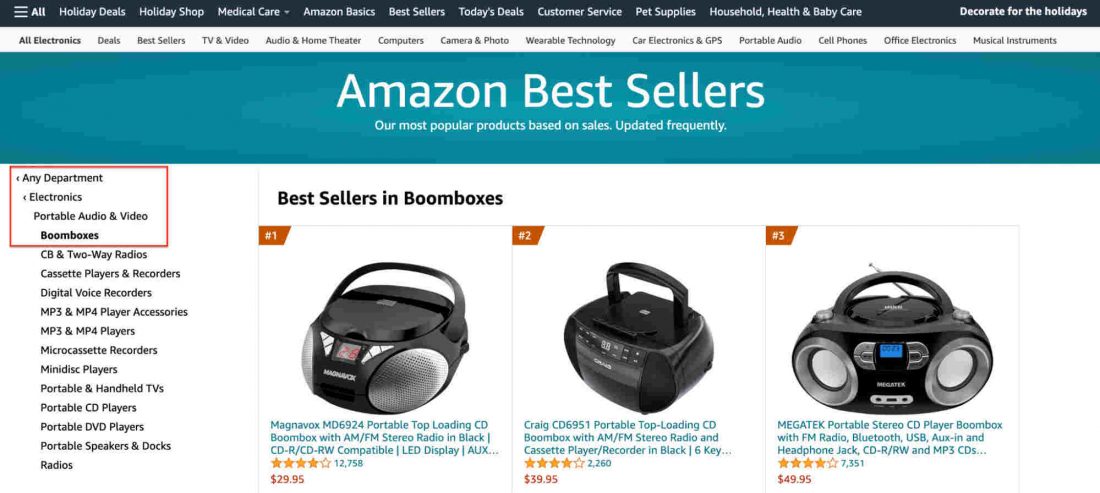 In just a few minutes, we were able to find a medium-demand product with low competition.
Obviously, you will need more research to determine whether or not this is a good product category to target — You can do this with the SellerApp Product Research tool.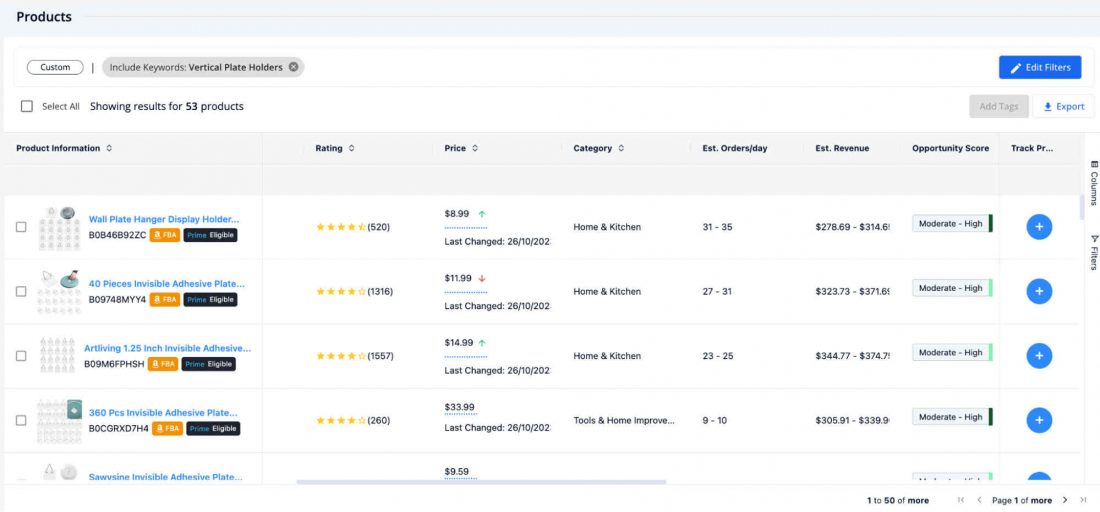 Factors to Consider When Choosing a Product to Sell
Not every type of product will make money for you. As a seller, you need to take a strategic approach to choose the products from specific criteria to ensure profitability. For example:
High Demand: Aim for products with a minimum of 300 monthly sales, translating to 10 sales per day—a solid benchmark for potential success.
Low Competition: Identify products with limited competition, making it easier for your listing to secure a prominent position in Amazon rankings.
Fewer Reviews: Amazon's search algorithm considers customer feedback. Focus on niches where top sellers have less than 400 reviews.
Weight Below 5 lbs.: Heavy items incur higher shipping and storage costs. Opt for lightweight products to reduce expenses and enhance profit margins.
Size Below 18" x 14" x 8": Larger products result in higher shipping costs and storage fees. Choosing smaller items helps minimize expenses.
Sales Price Between $10-70: Find a balance between affordability and profitability. Products in the $10-70 price range often strike the right chord with customers.
Cost 25% of Sales Price: Seek products that can be sold for approximately four times their wholesale sourcing cost to maintain healthy profit margins.
Everyday Use Items: Choose a daily usable product. These products tend to have strong market demand, making them excellent choices for sellers.
Final Thoughts
Although Amazon's best-selling products change constantly, quality and value remain its top priorities.
Moreover, it's not worth recommending which category is best to sell on Amazon. Every seller has different goals and motivations to do business.
Our goal here is to give you a clear picture of Amazon's existing best-selling product categories so you can think outside the box and have the best chance of success.
To learn more, check out this video to understand how to find the right products to sell on Amazon!