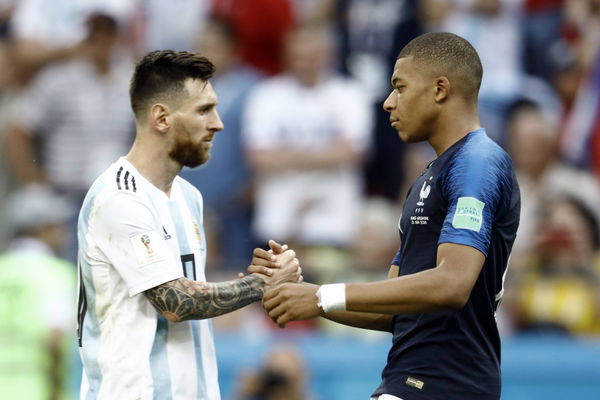 When it comes to a future soccer superstar after Cristiano Ronaldo and Lionel Messi, the one name that strikes the fans is Kylian Mbappe. Many in the world of soccer see the PSG forward as the next big thing, thanks to his enormous achievements at the age of just 24. With Messi winning the World Cup recently, the comparison between the two PSG teammates has grown
Messi started his early career at Newell's Old Boys in 1995 before moving to Barcelona Academy in 2000. He made his Barcelona debut at the age of 16 years and 145 days in a friendly against FC Porto. He signed his first professional contract in February 2004.
On the other hand, Mbappecame through the ranks of the AS Monaco Academy. His first team debut came at the age of 16 years and 347 days on 2nd December 2015. He signed his first professional contract in March 2016 before completing his record move to PSG. 
Major club trophies won by Lionel Messi and Kylian Mbappe
Messi is one of the most decorated soccer stars in the history of soccer. He has won almost all the trophies available. Messi, 35, has won 11 league titles (10 La Liga, 1 Ligue1). Comparatively, Mbappe, at 24, has won five league titles (all in the French league, one with AS Monaco and four with PSG).
Mbappe is yet to win the Champions League, while Messi has won it four times. When it comes to domestic trophies, Messi has won 15 with Barcelona and PSG. Mbappe has eight domestic trophies to his name.
Comparing Lionel Messi and Kylian Mbappe's achievements at 24
Messi made staggering 326 appearances in all competitions for club and country, scoring 197 goals and providing 84 assists at 24. Mbappe, at 24, had 253 goals and 132 assists in 363 appearances for club and country. Messi won the Pichichi trophy once and European Golden Shoe once before turning 24, whereas Mbappe finished as a top scorer in Ligue1 four times and won the FIFA Golden Boot once.
Messi won 20 trophies at 24, including the Olympics Gold in 2008 and FIFA U-20 World Cup in 2005. His other trophies include five La Liga, six domestic trophies with Barcelona, three UEFA Champions Leagues, two European Super Cups, and two Club World Cups. At 24, Mbappe had 17 trophies: five Ligue1 titles, eight domestic cups, one FIFA World Cup, One UEFA Nations League, and two youth trophies.
Trophies won by Messi and Mbappe with national teams
Messi has peaked off-late with Argentina, winning three trophies in recent years. He first won the Copa America for the first time in 2021, followed by Finalissima last year. Who can forget his biggest triumph, the FIFA World Cup last year in Qatar?
His PSG teammate Mbappe also has two international trophies to his name. He won the FIFA World Cup in 2018 at 19. He also finished runner-up in Qatar, where Argentina beat France in penalties. Mbappe won the second edition of the UEFA Nations League with France in 2021.
Prestigious individual awards won by Messi and Mbappe
When it comes to prestigious individual awards, Ballon d'Or is the most coveted award in soccer. The Argentine wizard has won the award record seven times in his glorious career. He also has FIFA Best Men's Player award to his name twice. Messi won the FIFA World Cup Golden Ball twice in 2014 and 2022. 
He also has won European Golden Shoe for six seasons. The former Barcelona talisman has the Pichichi trophy to his name eight times, with the prestigious Laureus World Sportsman of the Year in 2020. He won UEFA Men's Player of the Year twice. He has been named Argentine Footballer of the Year 15 times.
On the other hand, Mbappe is yet to win the prestigious Ballon d'Or award and a European Golden Shoe. He has won the coveted youth trophies Golden Boy and the Copa Trophy. The PSG forward won the FIFA World Cup Golden Boot in Qatar FIFA World Cup. He has been named French Player of the Year three times. Mbappe also won the Ligue1 top scorer four times.
Remarkable records in the name of Messi
Lionel Messi and records go hand in hand. He has several records to his name. Let us take a look at some incredible records. Messi has the most Ballon d'Or awards (7); most European Golden Shoe (6); Guinness record for most official goals in a calendar year (91 goals in 2012); most officially recorded assists.
He is the only player in history to score 40+ club goals in ten consecutive seasons. Messi has the most goals in La Liga (474). He also holds a record for a single club's most UEFA Champions League goals (120). PSG superstar is the only player to have won the FIFA World Cup Golden Ball twice. 
Mbappe recently became the all-time top goal scorer for PSG at 24. He became only the second player in the history of the World Cup to score a hat-trick in the final. He also became the youngest player to reach double-figure goals in the World Cup. With four goals in the final (one in 2018 and three in 2022), Mbappe now has the most World Cup final goals.